Thrustmaster 2013 Competition
08 December 2013

Competition is now closed.1st prize of the Warthog Stick to: Kewin Sawicki (facebook) 2nd prize headphones to: @gabitruba (twitter) 3rd prize headphones to: @ivorrama (twitter) 4th prize headphones to: Yves Chollet (Facebook) Many congratulations to the 4 winners and thank you to everyone else that entered.


Thrustmaster Prize Giveaway
for Western Europe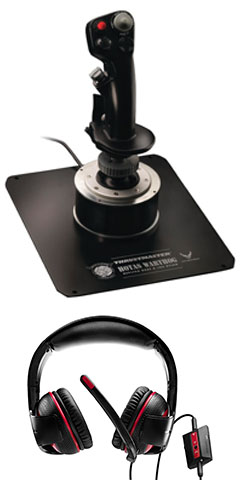 1st Prize -
Thrustmaster HOTAS Warthog Stick
2nd Prize -
Thrustmaster Y250C Gaming Headset
3rd Prize -
Thrustmaster Y250C Gaming Headset
4th Prize -
Thrustmaster Y250C Gaming Headset
To enter, follow the Facebook and/or Twitter rules.

For Facebook, follow these three simple steps:
1) "Like" the competition post on our Facebook page -
click to visit our page
;
2) "Share" this post (on your wall or to a friend's wall).
3) You MUST have "Liked" our Facebook page.
All 3 steps must be completed to be entered into the draw.

For Twitter, follow these two simple steps:
1) Follow us at
http://twitter.com/vredarrows
(@vredarrows)
2) "Tweet" or "Retweet" this message;
Giveaway Competition. TM HOTAS Warthog Stick + Gaming Headsets #VRA. Details: http://bit.ly/1jzYWMV
Both steps must be completed to be entered into the draw.
Terms and Conditions for entry into the competition:
- Facebook 3 steps must be completed or/and;
- Twitter 2 steps must be completed.
- Entrants can enter via Facebook and Twitter giving them twice the chance to win.
- Competition ends at midnight (GMT), 10th December, 2013 - entrants will be picked at random.
- The winners will be announced on 11th December, 2013 via our Facebook status update and Twitter status.
- Winners must reside in Western Europe and products will only be delivered to a Western Europe Address.
- For the avoidance of doubt, Western Europe is defined as countries herewith; Andorra, Austria, Belgium, Denmark, Finland, France, Germany, Greece, Iceland, Ireland, Italy, Liechtenstein, Luxembourg, Malta, Monaco, Netherlands, Norway, Portugal, San Marino, Spain, Sweden, Switzerland, United Kingdom, Vatican City.
- Thrustmaster products will be shipped directly from Guillemot Corporation S.A.
- Headset colours may vary.
- Unfortunately we cannot guarantee delivery of the prizes before Christmas but we will do our very best to make this happen.
VRA Full Display TONIGHT!
08 December 2013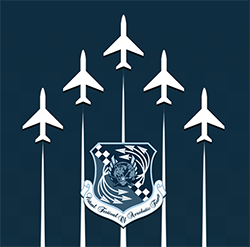 The Virtual Red Arrows will perform for you this evening
(
Sunday 8th December
) at the Virtual Festival of Aerobatic Teams (VFAT) at
19:30 GMT
.
You can watch us live by visiting the streaming channel at this slot time. CLICK HERE TO VIEW.
What is VFAT?
VFAT 2013 Arrival Flight Screenshots
20 November 2013

Thank you to everyone who supported us by watching live on Sunday 17th November.
If you missed the flight you can still catch
a replay by clicking here
.
Here are some stills taken of the flight:
VRA on BBC Radio Lincolnshire
18 November 2013

Missed the radio interview?
No problem click the image below for a replay
.
Thank you once again to the BBC Lincolnshire team and William Wright for the airtime.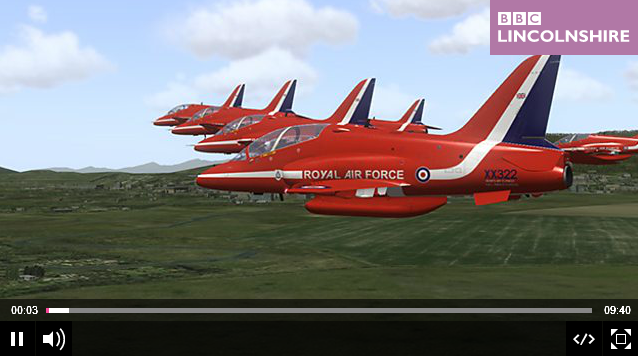 BBC Radio Lincolnshire Interview Today
18 November 2013


Chris Ellis our PR Manager will be taking part in a BBC Radio interview today at 17:35, discussing the Virtual Red Arrows.
Good luck Chris and thank you to William Wright for the invitation.
UK listeners should be able to tune in through the BBC Radio iPlayer otherwise please visit the live streaming service available here:
http://www.bbc.co.uk/bbclincolnshire

VFAT 2013 Arrival Flight (Live)
15 November 2013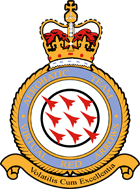 The VRA will be flying our live arrival flight on
Sunday 17th November at 19:00 GMT
.
The purpose of this flight is to test our connection with the Virtual Airshows streaming server in preparation for our full live display in early December. The test flight allows us to check various technical aspects such as streaming quality and audio levels. This will be a short live flight with all 9 pilots and the team cameraman.
Pending a successful test, the flight will briefly show you what to expect of the VRA at VFAT 2013 this year, we welcome viewers and hope you enjoy the short routine.
There are a few other arrival test flights being conducted following the VRA so be sure to stick around on the streaming channel to see what other teams have been working on this season.
Tune in at 19:00 GMT on the 17th by clicking here.
Magpie and David Make Active
18 September 2013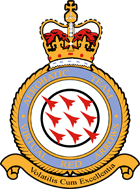 It is with great pleasure to announce that Brett Skerry from the UK & David Vultaggio from France have made the VRA active team.
Both men have shown a great passion for what we do and have been studying our procedures for the past 12 months! Due to the complexity of our shows it's vital that every recruit dedicates a huge amount of time to theory and 'self drive' to perfect skills outside the official team training schedule, (using our phantom training server). Whilst it has taken our core team many years to reach this point through experimentation and RAF references, it's unrealistic for us to expect new pilots to be able to train to the standards we expect in a shorter period of time.
Both Brett and David have an astonishing amount of phantom training hours between them. We demanded the need for two stable inner pilots, both embraced this challenge and met this goal. The Virtual Red Arrows would like to extend our thanks to both pilots for their dedication to our group and we very much look forward to watching their continued progression in their active slots.
P.s Brett seems to fly better with a broken shoulder!