How to join the VRA Phantom server
Introduction - Why use the phantom server?
This is a tutorial to walk you through connecting up to our Phantom training robot.
The robot itself (phantom) flies part of our show routine, through multiple barrel rolls, loops and splits.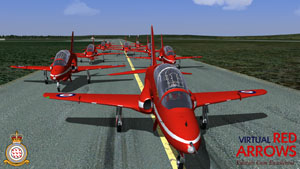 The Phantom aids in formation power management as well as stability in flight. If you are thinking of applying for the team, we strongly recommend that you participate in a few Phantom flight sessions prior to your application. Applicants will be asked to fly with the Phantom, your recruiter will review your performance in real-time which will determine your eligibility for recruit status in the VRA.
Step 1 - Required Software


Ensure you are running the simulator "Lock On Flaming Cliffs 2" with the latest patches.
http://lockon.co.uk/index.php?end_pos=1322&scr=shop
Download the modding software "Modman".
http://www.lockonfiles.com/index.php/files/file/889-modman-73/
Download the Teamspeak 3 client:
http://www.teamspeak.com/?page=downloads
At this point ensure that both FC2 and the Modman software are installed on your system.
Step 2 - Download and Install the Virtual Red Arrows Mod
Sign up to our website to download the BAE Hawk T1 Mod:
http://www.virtualredarrows.com/register-to-receive-free-mods
Do not "unpack" the Hawk mod archive, leave this in it's zipped form.
Open the Modman software.
Make sure Flaming Cliffs 2 is selected in the first "game management" screen and click Apply.
On the control panel click "Mods Installer"
Look to the top right of the panel and select the "Add" button
Select the BAE Hawk mod .zip file which you downloaded from our website.
Click "Install" bottom right in the Modman panel.
The installation package should turn Green or partial Yellow.
Close Modman
Step 3 - Connect to Teamspeak (TS).
Connect to our Teamspeak server using the following details:
Address: virtualredarrows.instantts.com
Port: 3333
Enter your nickname (callsign)
Leave the password field blank.
Join the channel where the user "Phantom" resides.
You should begin to hear the voice commands.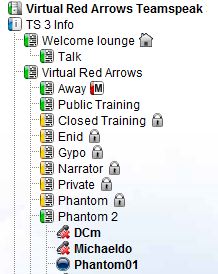 Step 4 - Connect to the VRA server within Flaming Cliffs 2
Open Flaming Cliffs 2 "Multi-player" mode.
Click "Client" and ensure the drop down field "Source" is set to "Internet".
Locate our server in the list "VRA Phantom".
Click the below image to expand.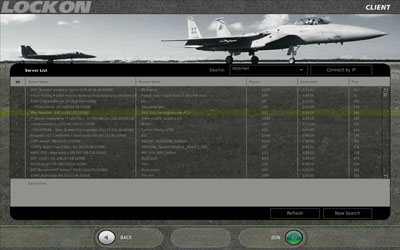 Click Join to join the flight in progress.
Select a plane and click "Fly" to spawn into the server.
You will see the "Phantom" aircraft labelled "Phantom" flying it's routine, the teamspeak communications will coincide with the actions and maneuvers.
Step 5 - Need further help?
Feel free to use our Phantom, if you have any questions or would like further technical support please visit our
forum
where we will be happy to assist.