VFAT Arrival Flight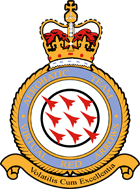 Hello flight sim enthusiasts, it's that time again! We cannot believe how quickly this year has passed and the Virtual Red Arrows are once again completing our final preparations for VFAT 2012.
As usual the team always conduct a very brief teaser flight for you, we use this 15 minute slot to conduct final live tests before our main show on the VFAT weekend.
We would like to extend our huge thanks to Manuel 'Manu' Goepfert who is well known within the Virtual Aerobatic Community and a skilled pilot for the Patrouille Suisse Virtuelle. At very short notice Manu will be conducting the VRA's camera work this year.
Please Like the team on Facebook.